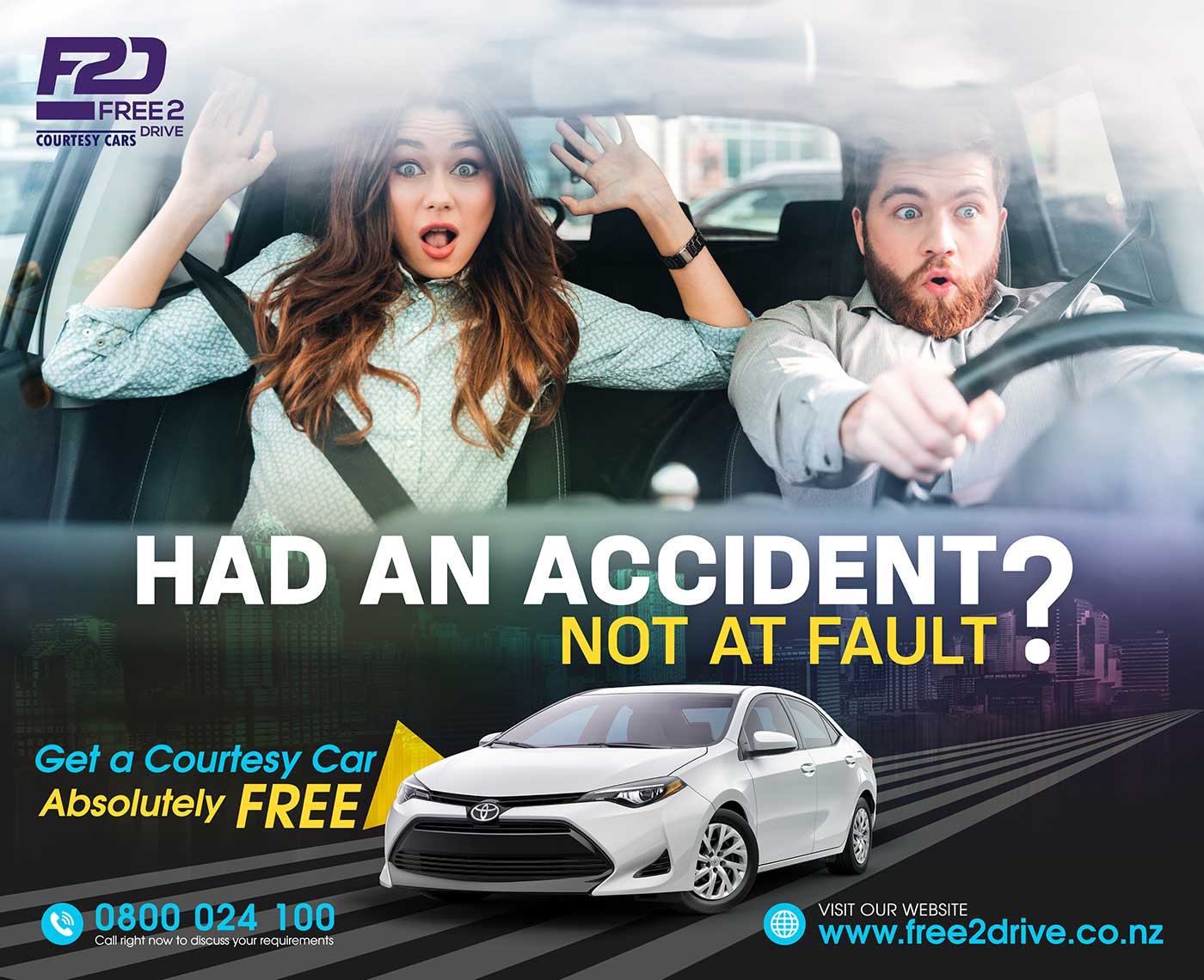 Good & Fast Service
Service Rendered was awesome, We just had to make a phone call and everything was taken care for free. It is one of the smoothest experiences I had by far.
Nathan
Totally Recommend Them
The vehicle offered was even better than what I expected. Clean, tidy and the latest model. Thank You F2D.
Mario
Welcome to Free 2 drive courtesy cars. We are a 100% Kiwi owned and operated premium accident replacement vehicle provider helping Kiwis get back on the road after a "not at fault" accident. We provide high quality "like for like" courtesy vehicle delivered to your home, office, Panel shop or any location of your choice within the Auckland region 24 hours 7 days a week at absolutely no cost to you!
When someone else is to blame for the accident, hearing the word "sorry" doesn't always make you feel better. If someone hits you when you're driving around, it likely means that your car has to go to a repair shop.
An accident replacement car could be the best option available to you. You're inconvenienced less as you now have the transport you need to keep you on the road. The goal is for you to have the transportation that you need from the moment the accident occurs. All you have to do is call or apply online with Free 2 Drive courtesy cars. While your car is being repaired, you will be able to go to work and enjoy yourself without feeling the stress of not having transportation.
You simply fill up our application form and if you are involved in a "no fault accident"We also offer rental cars if you're at fault for the accident, provided you have a rental car option in your policy.
Not at-fault drivers may be eligible for a "No Fault, No Cost" accident repair rental car, provided the cost of the rental vehicle can be recovered from an at-fault party or their insurer.
We deliver the car to you
we will deliver the courtesy car to your location free of cost
Once approved, Our staff will contact you to arrange a time and location for delivery of your courtesy car. Our service includes delivery to your panel shop, home, place of work or to your preferred location.
Return your car or we can collect
Return the car to the Panel shop or we can collect it from your preferred location.
Free 2 Drive will manage your rental car claim with the at-faults insurer. When your car is ready simply leave the car at the panel shop and drive away in your car – Simple!
IS IT FREE?
On successful approval of your application, you the renter remain liable for the hire car invoice. Free 2 Drive Rentals will immediately indemnify these rental charges and claim the invoiced amount from the at-fault party. Free 2 Drive Rentals may require your assistance with this recovery including: providing information, documentation, and authorisation attendance and attendance for any commencement of legal proceedings. While the Free 2 Drive Rentals vehicle is in your possession you will liable for any loss to the Free 2 Drive Vehicle as well as tolls and any infringements incurred during the rental period.
WHY CHOOSE F2D
No Credit Card Required
Faster Replacement
Free Delivery and Pickup
Fully Indemnified